Registrierung zur E-Mail-Benachrichtigung
Anmeldung zur kostenlosen Serienstart-Benachrichtigung für

E-Mail-Adresse
Für eine vollständige und rechtzeitige Benachrichtigung übernehmen wir keine Garantie.
35
Buried in the Backyard
Mord verjährt nicht
(Buried in the Backyard)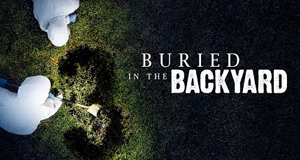 Platz 2936

35 Fans

57%

43%

jünger

älter

Serienwertung

0 41027

noch keine Wertung

eigene Wertung: -
Serieninfos & News
Deutsche Erstausstrahlung: 01.04.2021 (Sky Crime)
Dokumentation, True Crime
Jede Folge dieser True-Crime-Doku beschäftigt sich mit einem grausamen Mord, bei der die Leiche an ungewöhnlichen Orten vergraben wurde. Originale Tonaufnahmen des Notrufs sowie Interviews mit den zuständigen Detectives ergeben ein Gesamtbild der polizeilichen Ermittlungen, die letzten Endes zur Ergreifung des Täters führten.
(BK)