Deutsche Erstausstrahlung: 01.02.2009 (TNT Serie)
Liz Lemon (Tina Fey) ist Chefautorin einer fiktiven Comedyshow, die in den real existierenden Studios des US-Networks NBC produziert wird. Als sie einen neuen Chef bekommt, der keine Ahnung vom Fernsehgeschäft hat, aber ihre Show nach seinen Vorstellungen komplett umkrempelt, stellt sich ihr bisheriges Arbeitsleben auf den Kopf. Der besondere Reiz der ungewöhnlich aufwendig produzierten Sitcom liegt an ihrem pseudo-dokumentarischen Charakter. Das wird vor allem erreicht durch die Nennung und Verwendung tatsächlich existierender Firmen und TV-Sendungen sowie zahlreiche Auftritte bekannter Film- und Fernsehschaffender, die sich selbst spielen.
In der Episode "Der Schwangerschaftsgefallen" bekommt die Figur der Jenna Maroney eine Gastrolle als Leiche in "Law & Order: Special Victims Unit". Zu sehen ist auch eine fiktive Szene aus der Serie, in der Richard Belzer den John Munch spielt.
Serienguide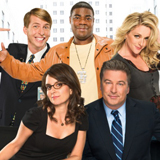 Hinter den Kulissen der Sendung The Girlie Show: Liz Lemon leitet das Autorenteam der Sendung und muss sich gegen ihren neuen Boss durchsetzen. Doch genau dieser Boss, Jack Donaghy, will der Sendung seinen Stempel aufdrücken. Also engagiert er Tracy Jordan als neue Hauptdarstellerin der Sendung und benennt diese um in The Girlie Show with Tracy Jordan. Macherin Tina Fey, die auch die Rolle von Liz Lemon übernommen hat, war früher selber Autorin in einer ähnlichen Show und baute zahlreiche eigene Erfahrungen in die Serie ein. Zahlreiche Gaststars wie etwa Conan O'Brien, Jerry Seinfeld, Al Gore, Larry King, Oprah Winfrey oder Whoopi Goldberg traten in 30 Rock auf und verkörperten sich selbst. Dadurch bekommt die Sitcom einen pseudo-dokumentarischen Charakter.
Hruska/Evermann 2008-2013