Registrierung zur E-Mail-Benachrichtigung
Anmeldung zur kostenlosen Serienstart-Benachrichtigung für

E-Mail-Adresse
Für eine vollständige und rechtzeitige Benachrichtigung übernehmen wir keine Garantie.
13133
Game of Thrones
Das Lied von Eis und Feuer
(Game of Thrones)

Platz 2

13133 Fans

64%

36%

jünger

älter

Serienwertung

5 17152

4.57

Stimmen:

457

eigene Wertung: -
Deutsche Erstausstrahlung: 02.11.2011 (TNT Serie)
Vielfach preisgekrönte Fantasy-Serie nach dem Romanzyklus "Das Lied von Eis und Feuer" von George R.R. Martin.In "Game of Thrones" kämpfen die verschiedenen Adelsgeschlechter um die politische Vorherrschaft um die sieben Königreiche des fiktiven Kontinents Westeros. Intrigen und Gewalt sind an der Tagesordnung der Adelshäuser der Starks, Lannisters und Baratheons. Doch auch die vor Jahren abgesetzte und verbannte Königsfamilie Targaryen plant ihre Rückkehr an die Macht.Die gefährlichen Ränkespiele führen schließlich zu einem Krieg, der den ganzen Kontinent destabilisiert, während sich jenseits des riesigen Eiswalls im Norden ein weiteres Unheil anbahnt. Dort taucht nämlich eine unheimliche, Jahrhunderte alte Macht auf, deren Wirken fürchterliche Folgen für alle Einwohner von Westeros haben wird.
Die Serie basiert auf der Fantasysaga "Das Lied von Eis und Feuer" von George R. R. Martin.
Serienguide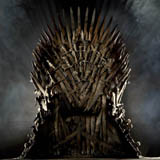 Preisgekrönte Fantasy-Serie nach den Romanen von George R.R. Martin: Mehrere Adelsfamilien kämpfen um den Thron über die sieben Königreiche von Westeros. Ned Stark, der Herr über Winterfell, wird in die Hauptstadt gerufen und soll als Hand des Königs Robert Baratheon dienen. Unwillig nimmt er die neue Aufgabe an und wird in einen Sumpf aus Intrigen verwickelt: Königin Cersei Lannister unterhält eine Affäre mit ihrem Zwillingsbruder Jaime. Und aus der Ferne planen die Targaryen-Zwillinge ihre Rückkehr an die Macht - denn ihr Vater war der Vorgänger Roberts auf dem Thron. Doch für die Königreiche ist all das immer noch die Ruhe vor einem ganz anderen Sturm: Denn Hoch im Norden an der Grenze zum ewigen Eis geschehen seltsame Dinge
Hruska/Evermann 2008-2013
Wo wird "Game of Thrones" gestreamt?
Mithelfen
Wo und wann läuft "Game of Thrones" im Fernsehen?
Ich möchte vor dem nächsten Serienstart kostenlos per E-Mail benachrichtigt werden:
¹ früherer bzw. Listenpreis
Alle Preisangaben ohne Gewähr, Preise ggf. plus Porto & Versandkosten.
GEWISSE INHALTE, DIE AUF DIESER WEBSITE ERSCHEINEN, STAMMEN VON AMAZON EU SARL. DIESE INHALTE WERDEN SO, WIE SIE SIND ZUR VERFÜGUNG GESTELLT UND KÖNNEN JEDERZEIT GEÄNDERT ODER ENTFERNT WERDEN.
Externe Websites
E
Episodenliste
I
Inhaltsangabe
B
Bilder
A
Audio/Musik
V
Videos
F
Forum
N
Blog/News
Hoerratte

schrieb am 10.09.2020, 16.54 Uhr:

Ruhe in Frieden, liebe Diana Rigg 20.07.1938 - 10.09. 2020
ZZvSchnerk

schrieb am 22.03.2020, 18.02 Uhr:

Eigentlich wäre ja jetzt im Corona-Lockdown die perfekte Gelegenheit, sich GOT noch mal komplett per "Binge Watching" reinzuziehen. Seit dem Ende der finalen Folge habe ich keine GOT-Sekunde mehr angesehen und es war die einzige Folge, die ich nur ein einzigen Mal gesehen habe.Aber je länger das Finale zurückliegt, umso geringer wird meine Lust auf die ehemals beste Serie. Direkt danach habe ich mir das Ende noch ein bisschen "schön geredet", weil es ja "vernünftig" war. Aber ich merke immer mehr den eigentlichen Fehler: Vernunft hat in "Game of Thrones" einfach nichts zu suchen - nur Emotion zählt! Echt schade um die Serie.

User 1567937

schrieb am 29.04.2020, 15.41 Uhr:

Wir haben durch den Corona-Lockdown endlich mal angefangen, diese erfolgreiche Serie anzuschauen. In 3 1/2 Wochen wurden alle 8 Staffeln gesehen und die Serie hat uns total begeistert. Leider war für mich das Endes dermaßen enttäuschend, besonders was John Schnee betrifft. Die positivste Figur der Serie endet in Staffel 8 als der Hauptverlierer. Ich habe bis zur letzten Minute gehofft, dass er nicht diese Strafe antreten muss. Die letzte Folge haben wir gestern gesehen und ich konnte mich bis jetzt nicht darüber beruhigen.
User 1544176

schrieb am 17.02.2020, 12.45 Uhr:

#Mitmachen! #Psychologische StudieHello people!Welche Persönlichkeitsmerkmale führen dazu, dass wir bestimmte Serien schauen?
Wie kommt es, dass manche Leute die Serie GoT genießen, obwohl die Charakter sich moralisch teilweise so fragwürdig verhalten, dass wir nicht mehr wissen, ob wir noch zu ihnen halten sollen? Warum halten sich wiederum andere Personen von solchen Serie fern? Mit unserer Studie wollen wir diese Fragen beantworten.Link zur Studie:
https://www.soscisurvey.de/macs2020/Die Studie dauert 30 Minuten. Jede Person darf an der Studie teilnehmen.
Ihr leistet mit eurer Teilnahme einen wichtigen Beitrag zur Forschung im Bereich der Medienpsychologie.