Deutsche Erstausstrahlung: 08.01.2012 (sixx)
Ungewollte Teenagerschwangerschaften und Enthaltsamkeit sind die beiden Pole um die die Handlung von "The Secret Life of the American Teenager" kreist. Während eine Schülerin nach der Liebesnacht mit ihrem Freund ein Kind erwartet und sich entscheiden muss, wie es von nun an weiter gehen soll, hält ein anderes Mädchen sehr zum Verdruss ihres Freundes vehement an ihrer Jungfräulichkeit fest.
Serienguide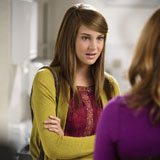 Am Anfang steht eine ungewollte Schwangerschaft: Die 15-jährige Amy Juergens muss ihren Eltern beichten, dass sie ein Kind erwartet und tritt damit eine Lawine an Problemen los. Diese und andere Geschichten rund um Sex, Beziehungen und Schwangerschafts-Dramen aus einer Highschool im Mittleren Westen der USA erzählt The Secret Life of the American Teenager. Es sind junge Menschen wie Amy, ihr Freund Ben und ihre Affäre Ricky, die mit ihrem Leben klarkommen und schneller als gewollt erwachsen werden müssen. Die Serie wurde wegen der heißen Eisen, die sie in einem tabugeprägten Amerika anfasst, von Publikum und Kritikern hochgelobt und gewann unter anderem einen Teen Choice Award.
Hruska/Evermann 2008-2013