Deutsche Erstausstrahlung: 13.02.2008 (ProSieben)
Das Spin-Off der Arztserie "Grey's Anatomy" folgt der Ex-Krankenhaus-Gynäkologin und Fachärztin für neonatale Chirurgie Dr. Addison Montgomery (Kate Walsh) nach Los Angeles, wo sie Teilhaberin einer Gemeinschaftspraxis ihrer alten Studienkollegen wird. Die Liebesbeziehungen der zusammenarbeitenden Ärzte bilden die Rahmenhandlung, in die sich die Krankengeschichten der Patienten einbetten.
Cast & Crew
Kate Walsh

Dr. Addison Forbes Montgomery

Taye Diggs

Dr. Sam Bennett

Amy Brenneman

Dr. Violet Turner

Paul Adelstein

Dr. Cooper Freedman

KaDee Strickland

Dr. Charlotte King

Brian Benben

Dr. Sheldon Wallace

Audra McDonald

Dr. Naomi Bennett

Tim Daly

Dr. Pete Wilder

Caterina Scorsone

Dr. Amelia Shepherd

Chris Lowell

Dr. William Cooper

Benjamin Bratt

Dr. Jake Reilly

Timothy Daly

Dr. Pete Finch

Griffin Gluck

Mason Warner

Scott Alan Smith

Therapist

A.J. Langer

Erica Warner

Michael Patrick Thornton

Dr. Gabriel Fife

Geffri Maya Hightower

Maya Bennett

David Sutcliffe

Officer Kevin Nelson

Hailey Sole

Betsey Parker

Matt Long

Dr. James Peterson

Stephen Amell

Scott Becker

Grant Show

Archer Montgomery

Joey Bobo

Lucas

Jack Bobo

Lucas

Stephen Lunsford

Dink

Justina Machado

Stephanie Kemp

JoBeth Williams

Bizzy Montgomery

Jayne Brook

Dr. Meg Porter

Agnes Bruckner

Heather

Ann Cusack

Susan Grant

Amanda Detmer

Morgan Gellman

Amanda Foreman

Katie Kent

Jay Harrington

Dr. Wyatt Lockhart

Josh Hopkins

Dr. Noah Barnes

Diarra Kilpatrick

Nurse

Sharon Leal

Sonya

Evan Olman

Paramedic Rodriguez

Anika Noni Rose

Corinne

Nicholas Brendon

Lee McHenry

Michael Reilly Burke

Simon McConnell

Christina Chang

Vanessa

Stephen Collins

Addison's Father

Cristián de la Fuente

Dr. Eric Rodriguez

Blue Deckert

Detective Price

Fatimah Hassan

Doctor

Karma Kerr

Henry

Kate Lacey

E.R. Nurse

Aloma Wright

Social Worker

Wes Brown

Ryan Kerrigan

Jane Clark

Nurse

Diane Farr

Miranda

Judith Hoag

Angie McConnell

DaJuan Johnson

Marty Salter

Monica Keena

Kayla

Carter MacIntyre

Nick Calhoun

Grace Matias

Nurse

Micah May

Cop

Bill Miller

Paramedic

Lourdes Nadres

Nurse

J. Rene Pena

Gladys

Derek Phillips

Eddie Lindy

Emily Rios

Angela

Anthony Miziko

Paramedic #2

Jeff Skier

Paramedic #2

Heidi Strickler

Nurse Janet

Shavon Kirksey

Maya Bennett

Rhonda Marie Alston

Hostess

Rosanna Arquette

Corinne

Emily Boehnlein

Jenny

Michael Bofshever

Neal Chaplin

Betsy Brandt

Joanna Gibbs

Conni Marie Brazelton

Judge Hansen

Michael Patrick Breen

Dr. Turner's Patient

Sean Bridgers

Frank

Max Burkholder

Ben King

Amy Shelton-White

Nurse #1

Kayla Ibarra

Nurse #1

Christina Cannarella

Nurse #2

Paul Cassell

Jason Dupree

Kathy Christopherson

Carrie Sinclair

Robert Corvin

Lab Tech

Eric Dane

Dr. Mark Sloan

Patrick Dempsey

Dr. Derek Shepherd

Jeffrey Doornbos

Matt Sinclair

Sarah Drew

Judy

Louise Fletcher

Frances Wilder

Siena Goines

Claudia Jenkins

Currie Graham

Russell

Kim Hawthorne

Joan

Charlie Hofheimer

Ron Nelson

Kelly Troy Howard

Anesthesiologist

Marianne Jean-Baptiste

Gabi Rivera

Shane Johnson

Dave

Frederick Keith Johnson

Patient

Porter Kelly

Sharon

Mimi Kennedy

Eleanor

Alex Kingston

Marla Thomkins

Kevin Koster

Officiant #1

Katie Lowes

Kira

Joey Luthman

Porter

Mike Madrigal

Construction Worker

Idina Menzel

Lisa King

Andy Milder

Doug Adams

Sean Moran

Judge McLennan

Sonia Bril Navarro

Nurse

Rachel Pace

Kim

Amanda Pace

Becky

Elizabeth Pan

ER Nurse

Scott People

Officer

James Pickens Jr.

Dr. Richard Webber

Kylie Rogers

Sarah Nelson

Kyle Secor

Adam Wilder

Nina Siemaszko

Kathleen

Michael B. Silver

David Gibbs

Germaine Mozel Sims

Doctor

French Stewart

Kevin

Cory Tucker

Paramedic

Myk Watford

Billy Douglas

Robin Weigert

Amelia Sawyer

Alison White

Roberta

Chryssie Whitehead

Dana Nelson

Alex Rose Wiesel

Student

Chandra Wilson

Dr. Miranda Bailey

Meg Wolf

Nancy

D.B. Woodside

Duncan

Missy Yager

Megan Stewart

Rebecca Mader

Leslie

Bellamy Young

Kathy

Sahlima

Sam's Girl

Caroline Aaron

Stephanie

Amy Acker

Molly Madison

Amanda Aday

Patty

Keiko Agena

Sister Amy

Greg Ainsworth

Bob Yates

Tony Alameda

Latino Man

Lizabeth Allen

Terri

Daniella Alonso

Reyna Reyes

Tom Amandes

Charlie

Nichole Ambriz

Trauma Nurse

Hira Ambrosino

Iris Rogerson

Audrey Marie Anderson

Rose Filmore

Ara Anton

ER Doctor

Dennis Apergis

Shimmon Gold

Amy Aquino

Claire

Geoffrey Arend

Jimmy

Jillian Armenante

Arlene

Matthew John Armstrong

Daron Rousakis

Michelle Arthur

Psychiatrist

Aaron Ashmore

Carl

René Ashton

Ellen

Jennifer Aspen

Lara

Mackenzie Astin

Dan Meyer

Natalie Avital

Sissy

Jack Axelrod

Oscar

Obba Babatundé

Dr. Larry Cannon

Todd Babcock

Joe Roberts

Jillian Bach

Debra Diamanti

Justine Bateman

Sydney

Ryan Michelle Bathe

Robin

Kristin Bauer van Straten

Susanna

Noah Bean

Sean

Declan Beaty

Todd Minahan

Diane Behrens

Dorothy

Dan Belzer

Caroler 3

Amber Benson

Jill

Kevin Berntson

Anthony Parker

Blake Bertrand

J.J. Schaffer

Sachin Bhatt

Dr. Barksdale

Danielle Bisutti

Lynn

Joshua Bitton

Adam Stanfield

Marina Black

Lorraine

Stefanie Black

Assistant D.A.

Geoffrey Blake

Jack Grossman

Natalie Le Blanc

Sydney

Ingrid Bloom

Mom

Ian Bodell

Jeffrey

Andrew Borba

Will Martin

Kacie Borrowman

Sally Donovan

Timothy Bottoms

Irwin

Jillian Bowen

Renee

Tom Bower

Patrick's Grandfather

Lauren Bowles

Cyndy

Branton Box

The Man

Christopher Boyer

Grant Murphy

John Brandon

Nate

Tom Bresnahan

Warren Pearl

Roger Bridges

Bryce

Jack Briggs

Nick

Ivar Brogger

Ronald

Heather Brooker

Forensic Nurse

Jeffrey Nicholas Brown

Andrew

Brianna Brown

Sam's Date

Kathryne Dora Brown

Ellen Embry

Jeanette Brox

Lizzie Hagan

Regie: Mark Tinker, Ann Kindberg, Tom Verica, Bethany Rooney, Michael Zinberg, Jeff Bleckner, Donna Deitch, Karen Gaviola, Allison Liddi-Brown, Eric Stoltz, Jeannot Szwarc, Edward Ornelas, Scott Printz, Paul Adelstein, Stephen Cragg, Steve Gomer, Kenny Leon, Jeff Melman, Helen Shaver, Kate Woods, Rob Corn, Jim Frawley, James Frawley, Tony Goldwyn, Amyn Kaderali, Joanna Kerns, Elizabeth J.B. Klaviter, James Larkin, Allison Liddi, Matthew Penn, Michael Pressman, Bill Purple, Steve Robin, Julie Anne Robinson, David Solomon, Wendey Stanzler, Randy Zisk
Drehbuch: Shonda Rhimes, Craig Turk, Steve Blackman, Jennifer Cecil, Elizabeth Klaviter, Jon Cowan, Fred Einesman, Ayanna Floyd, Barbie Kligman, Zahir McGhee, Robert L. Rovner, Christopher Fife, Krista Vernoff, Debora Cahn, Gabriel Llanas, Sonay Washington, Dana Baratta, Patricia Carr, Gabe Fonseca, Emily Halpern, Kathy McCormick, Marti Noxon, Lara Olsen, Michael Ostrowski, Lauren Schmidt Hissrich, Karen Wyscarver, Jenna Bans, Sal Calleros, Noah Evslin, Sanford Golden, Eric Haywood, Elizabeth J.B. Klaviter, Sheila R. Lawrence, Adele Lim, Moira McMahon, Andrea Newman, Robert Rovner, Lauren Schmidt, Jesse Zigelstein
Produktion: Scott Printz, Shonda Rhimes, Ann Kindberg, Betsy Beers, ShondaLand, Cinema Vehicle Services, Mark Tinker, Hans van Doornewaard, Fred Einesman, Ayanna Floyd, Steve Blackman, Jon Cowan, Robert L. Rovner, David Glazier, Jennifer Cecil, Lauren Schmidt Hissrich, Barbie Kligman, Elizabeth Klaviter, Dana Baratta, Patricia Carr, Christopher Fife, Sanford Golden, Kathy McCormick, Lara Olsen, Marti Noxon, Chris Van Dusen, Karen Wyscarver, Michael Ostrowski, Craig Turk, Krista Vernoff, Jenna Bans, Andrea Newman, Xavier C. Salinas, Amy Vassallo, Adele Lim, Lauren Schmidt, Sheila R. Lawrence, Jim Goldthwait, Mark Wilding, Ayanna A. Floyd
Produktionsfirma: The Mark Gordon Company, ABC Studios, ShondaLand
Musik: Chad Fischer, Timothy Bright, mothy Bright
Kamera: Lex DuPont, James Zucal, Bill Brummond, Lex du Pon, Alex Hajdu
Schnitt: Christal Khatib, Noah Pontell, Sunny Hodge, Christal A. Khatib, Matt Ramsey, Matthew Ramsey, Daniel Gabbe, Revis Meeks, Christal A. Khati, Gregory T. Evans, Edward Ornelas, Matt Ramse
Szenenbild: Melissa M. Levander
Regieassistenz: Kevin Koster, Brendalyn Richard, Jim Goldthwait, Matt Buckler, Cecilia Mak, Jeani Harris-Olivieri, Jeani Harris, Hillary Cohen, Imhotep Coleman, Marisa Ferrey, Gabriella Poli, Merry Chen, Chad Silver, Stephanie Tull, Martha M. Elcan, Carol Green, Emily Hogan, Allison Rushton, Christina Lee, Angie Read, Nate Murphy, Linde Sayles, Kathryn Francis Tucker, Timothy C. Reischauer, Redelia Shaw
Ton: Stephen Fitzmaurice, David S. DiPietro, Walt Bost, Greg Cosh, Max Medenwald, Donald Murray, Michael Mullane, Walter Michael Bost, Adam De Coster, Stacey Michaels, Geoffrey Patterson, Mark Steinbeck
Spezialeffekte: Richard Alonso, Tony Pirzadeh, Tavis Larkham, Darren Frankel, O.T. Hight, Christopher D. Martin
Stunts: Courtney Farnsworth, Rich Vieira
Serienguide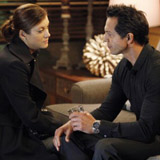 Spin-Off von Grey's Anatomy (siehe dort): In Seattle hat Dr. Addison Montgomery kein Glück mit der Liebe. Sie beschließt, dem Seattle Grace Hospital den Rücken zu kehren und wagt den Neuanfang: Addison zieht nach Los Angeles und nimmt eine Stelle als Gynäkologin in der Privatklinik ihrer Studienfreunde Naomi und Sam Bennett an. Die beiden sind frisch geschieden und haben neben der gemeinsamen Arbeit auch ihre 13jährige Tochter Maya. Zum Glück kommen sie nach ihrer Trennung weiterhin gut miteinander aus. Ebenfalls in der Klinik arbeiten die Ärzte Pete Wilder, Violet Turner und Cooper Freedman, die alle ihre ganz eigenen Sorge und Nöte mit der Liebe haben.
Hruska/Evermann 2008-2013