Registrierung zur E-Mail-Benachrichtigung
Anmeldung zur kostenlosen Serienstart-Benachrichtigung für

E-Mail-Adresse
Für eine vollständige und rechtzeitige Benachrichtigung übernehmen wir keine Garantie.

Platz 1839

586 Fans

70%

30%

jünger

älter

Serienwertung

4 10773

4.29

Stimmen:

51

eigene Wertung: -
Deutsche Erstausstrahlung: 12.11.2009 (kabel eins)
Fünf Menschen, drei unterschiedliche Lebensabschnitte: Jeff (Patrick Warburton) und Audrey Binham (Megyn Price) sind seit geraumer Zeit verheiratet und haben es sich in ihrem oft spießig anmutenden Leben gemütlich gemacht. Adam Rhodes (Oliver Hudson) und Jennifer Morgan (Bianca Kajlich) haben sich kürzlich verlobt und schweben noch immer auf Wolke 7. Russel Dunbar (David Spade) wiederum ist Lebemann mit Herzblut und gibt sich mit ständigen, aber kurzen Affären sehr zufrieden. Ihre Lebensentwürfe unterscheiden sich sehr, Vorteile und auch Nachteile bieten all diese Beziehungsstadien. Jeff ist der typische Beschützer-Macho-Ehemann, der Sport liebt und versucht immer möglichst hart zu wirken. Verletzlichkeit oder Sensibilität sind für ihn Fremdwörter. Auch bei Geldfragen hat Jeff die Hosen an und versucht, seine Frau von allzu viel Shopping-Abenteuern abzuhalten.Audrey wiederum hat viele Momente, in denen sie ihren extravaganten Lebensstil durchzusetzen versucht. Das klappt mitunter sehr gut, da sie im Fall der Fälle sehr stoisch sein kann.Adam ist das genaue Gegenteil von Jeff: Er ist sensibel, verständnisvoll - und daher oft auch unglaublich naiv.Jennifer muss ob der Macken ihres Verlobten Einiges ertragen, und das, obwohl sie selbst voller Eloquenz und Charisma strotzt.Russel liebt es, Frauen zu verführen - für viel mehr scheint sein Hirn aber nicht gebaut worden zu sein.
Serienguide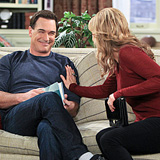 Adam und Jennifer sind frisch verliebt und haben sich gerade verlobt. Doch die Welt der Beziehungen steckt voller Tücken und Fallstricke - daran werden die beiden immer wieder von ihren Nachbarn Jeff und Audrey erinnert, die schon lange verheiratet sind. Der fünfte im Bund ist Russell, der als glücklicher Single sein Leben in vollen Zügen genießt und von einer Bettgeschichte zur nächsten stolpert.
Hruska/Evermann 2008-2013
Wo wird "Rules of Engagement" gestreamt?
Leider derzeit keine Streams vorhanden.
Mithelfen
Wo und wann läuft "Rules of Engagement" im Fernsehen?
Ich möchte vor dem nächsten Serienstart kostenlos per E-Mail benachrichtigt werden:
Alle Preisangaben ohne Gewähr, Preise ggf. plus Porto & Versandkosten.
GEWISSE INHALTE, DIE AUF DIESER WEBSITE ERSCHEINEN, STAMMEN VON AMAZON EU SARL. DIESE INHALTE WERDEN SO, WIE SIE SIND ZUR VERFÜGUNG GESTELLT UND KÖNNEN JEDERZEIT GEÄNDERT ODER ENTFERNT WERDEN.
Externe Websites
E
Episodenliste
I
Inhaltsangabe
B
Bilder
A
Audio/Musik
V
Videos
F
Forum
N
Blog/News
C@llen

(geb. 1973)

schrieb am 10.10.2014:

Jetzt wo man doch noch Weitere Staffeln veröffentlicht bitte bis zur Finale Staffel 7 Veröffentlichen