Registrierung zur E-Mail-Benachrichtigung
Anmeldung zur kostenlosen Serienstart-Benachrichtigung für

E-Mail-Adresse
Für eine vollständige und rechtzeitige Benachrichtigung übernehmen wir keine Garantie.

Platz 4

11455 Fans

67%

33%

jünger

älter

Serienwertung

4 16513

4.45

Stimmen:

487

eigene Wertung: -
Serieninfos & News
Deutsche Erstausstrahlung: 05.11.2010 (Fox Channel)
Nachdem eine weltweite Virus-Epidemie fast alle Menschen in blutrünstige Zombies verwandelt hat, kämpft eine kleine Gruppe Nicht-Infizierter im Südosten der USA ums Überleben. Auf der Suche nach einer neuen Heimat begegnen sie anderen, die ebenfalls verschont geblieben sind - aber trotzdem nicht immer Gutes im Schilde führen. Sie reisen durch Wälder und verwüstete Städte, erforschen Militäranlagen und müssen stets damit rechnen, plötzlich von Zombies angegriffen zu werden. Dabei wird der Zusammenhalt innerhalb der Gruppe immer wieder auf die Probe gestellt, während sich die Angst vor den Untoten immer tiefer in die Seelen der Gruppenmitglieder bohrt.
Adaption der gleichnamigen Comicreihe von Robert Kirkman. Showrunner Frank Darabont verließ die Show unter nicht kommunizierten Umständen während der Produktion der zweiten Staffel. Sein Nachfolger Glen Mazzara wurde wiederum nach der dritten Staffel wegen künstlerischer Differenzen durch Scott Gimple ersetzt.
Serienguide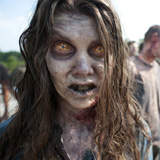 Als Deputy Rick Grimes nach einer Schußverletzung im Krankenhaus erwacht, hat sich die Welt um ihn herum dramatisch verändert: Nach einer Zombie-Apokalypse haben die Untoten mit ihrer Jagd auf Menschen begonnen, und nirgends ist es mehr sicher. Rick stellt fest, daß seine Frau Lori und sein Sohn Carl verschwunden sind und macht sich auf die Suche nach ihnen. Es gibt Gerüchte, daß die Seuchenbehörde CDC in Atlanta eine sichere Zone für Menschen eingerichtet hat und hofft, auf dem Weg dorthin seiner Familie zu begegnen - mit Erfolg: Rick stößt auf eine kleine Gruppe Überlebender, zu der nicht nur Lori und Carl gehören, sondern auch sein Ex-Kollege und bester Freund Shane Walsh. Gemeinsam versuchen sie, den Untoten zu entkommen und einen sicheren Ort zu finden.
Hruska/Evermann 2008-2013
The Walking Dead Streams
Wo wird "The Walking Dead" gestreamt?
Mithelfen
Im TV
Wo und wann läuft "The Walking Dead" im Fernsehen?
Ich möchte vor dem nächsten Serienstart kostenlos per E-Mail benachrichtigt werden:
Shophighlights
: DVDs, Blu-ray-Discs, Bücher
** günstigster Preis im Amazon.de-Marketplace (Stand: ..)
¹ früherer bzw. Listenpreis
Alle Preisangaben ohne Gewähr, Preise ggf. plus Porto & Versandkosten.
GEWISSE INHALTE, DIE AUF DIESER WEBSITE ERSCHEINEN, STAMMEN VON AMAZON EU SARL. DIESE INHALTE WERDEN SO, WIE SIE SIND ZUR VERFÜGUNG GESTELLT UND KÖNNEN JEDERZEIT GEÄNDERT ODER ENTFERNT WERDEN.
Links
Externe Websites
E
Episodenliste
I
Inhaltsangabe
B
Bilder
A
Audio/Musik
V
Videos
F
Forum
N
Blog/News
Kommentare
, Erinnerungen und Forum
hin_und_wieder_weg

(geb. 2000)

schrieb am 11.02.2021, 15.42 Uhr:

Wann endlich mal wieder in free TV ?
Stefan_G

(geb. 1963)

schrieb am 26.11.2020, 00.55 Uhr:

Ist man gar nicht gewohnt - um diese (Jahres)Zeit kein "TWD"...

Metaller_de

(geb. 1973)

schrieb am 03.03.2021, 11.18 Uhr:

Ich habe Reviews zu allen The Walking Dead Episoden veröffentlicht (Spoiler!) Hier kannst du alles noch einmal nachlesen - https://www.metaller.de/thema/film-zeit/
Kroetevreni

schrieb am 07.10.2020, 17.55 Uhr:

Hallo, weiß jemand, wann Folge 16 von Staffel 10 auf RTL 2 läuft?

rpm

schrieb am 07.10.2020, 22.18 Uhr:

Das würde mich auch stark interessieren... sowas... das haben sie doch noch nie gemacht.. die letzte der Staffel nicht senden?! Finde die info nirgends?

Awitt

schrieb am 08.10.2020, 11.23 Uhr:

Da die letzte Folge erst am Montag mit 6 Monate Verspätung auf Fox lief, könnte ich mir vorstellen das es auf RLT2 ähnlich lange dauert.

Kroetevreni

schrieb am 08.10.2020, 13.36 Uhr:

Wäre aber schade, da sie ja synchronisiert ist und schon auf Fox lief. Könnten sie eigentlich jetzt bringen
Bildergalerie zu "The Walking Dead"
The Walking Dead-Fans mögen auch