Registrierung zur E-Mail-Benachrichtigung
Anmeldung zur kostenlosen Serienstart-Benachrichtigung für

E-Mail-Adresse
sobald ein neuer Termin feststeht (ca. 3-6 Wochen vorher)
einen Tag vor der Ausstrahlung
täglich im "TV-Planer" für alle ausgewählten Serien und Filme
wöchentlich im Newsletter mit allen Serienstarts der Woche (Änderung/Löschung ist jederzeit unter www.wunschliste.de/login möglich)
Ich willige ein, dass ich kostenlos per E-Mail informiert werde. Diese Benachrichtigungen (z.B. TV-Sendetermine, Streaming-Tipps und Medien-Neuerscheinungen) können jederzeit geändert und deaktiviert werden. Mit der Speicherung meiner personenbezogenen Daten bin ich einverstanden. Eine Weitergabe an Dritte erfolgt nicht. Ich kann die Einwilligung jederzeit per E-Mail an kontakt@imfernsehen.de oder per Brief an die imfernsehen GmbH & Co. KG, Aachener Straße 364-370, 50933 Köln widerrufen. Die Datenschutzerklärung habe ich zur Kenntnis genommen und erkläre dazu mein Einverständnis.
Für eine vollständige und rechtzeitige Benachrichtigung übernehmen wir keine Garantie.
J.A.G. - Im Auftrag der Ehre
(JAG)
USA

, 1995 – 2005

1978

Fans

59%

41%

ø Alter: 40-50 Jahre

Serienwertung

4 3641

4.34

Stimmen:

121

eigene Wertung: -
Serieninfos & News
Deutsche Erstausstrahlung: 26.07.1996 (Sat.1)
Lieutenant Harmon Harm Rabb ist der beste Mann der Navy: Als Mitglied der militärischen Ermittlungsbehörde der Marine verteidigt Rabb sein Vaterland nicht gegen fremde Aggressoren, sondern gegen den inneren Feind. Rabb ist Ermittler, Verteidiger und Richter in einem. Gemeinsam mit der Computerspezialistin Lieutenant Austin (im Pilotfilm: Kate Austin, in den Folgen: Meg Austin) löst Harm Rabb brisante Fälle, die sich auf militärischen Stützpunkten in der ganzen Welt ereignen - von Südafrika bis in den Irak. Unter anderem: Eine junge Pilotin wird auf einem Flugzeugträger ermordet und der Verdacht fällt auf den frauenfeindlichen Commander. Der Experte für ferngesteuerte Torpedos auf einem U-Boot entpuppt sich als Erpresser. Eine rechtsradikale Miliz gelangt in den Besitz von Atomsprengsätzen aus einem Navy-Depot. Harm Rabb ermittelt ohne Rücksicht auf Rang und Namen - und erregt nicht selten den Unmut höhergestellter Offiziere. Für den ehemaligen Kampfpilot ist der Einsatz für Gerechtigkeit in der Marine auch eine Frage der Ehre: Sein Vater kehrte von einem Vietnam-Einsatz nicht mehr zurück. Ab der zweiten Staffel wird Mac, Sarah MacKenzie, Harms Kollegin - und die beiden entwickeln sich trotz zahlreicher Wortgefechte schnell zu einem unschlagbaren Team. J.A.G. ist die Abkürzung für Judge Advocate General.
aus: Der neue Serienguide
Fernsehlexikon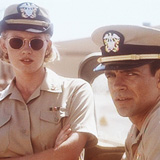 227-tlg. US Anwaltserie von Donald P. Bellisario ("JAG"; 1995-2005).Lt. Harmon Rabb Jr. (David James Elliott), genannt "Harm", ist Militäranwalt und kämpft im Auftrag des "Judge Advocate General" Corps der Navy, und natürlich der Ehre, für die Einhaltung des Seerechts. Sein eigentlicher Job findet vor Gericht statt - das vergisst man leicht, weil er dauernd in irgendwelchen U-Booten und auf Flugzeugträgern herumturnt. Er war Kampfpilot, ist jedoch seit einem Unfall nachtblind. Seine Partnerin bei den Ermittlungen ist anfangs Lieutenant Meg Austin (Tracey Needham), ab der zweiten Staffel Major Sarah MacKenzie (Catherine Bell), schlicht "Mac" genannt. Außerdem helfen Harms Assistent Bud Roberts (Patrick Labyorteaux), der zunächst noch Jura studiert und später selbst Anwalt wird, und bei manchen Fällen der Agent Clayton Webb (Steven Culp). Harm, Mac und Bud werden im Laufe der Zeit befördert und rücken einen Dienstgrad nach oben. Admiral A. J. Chegwidden (John M. Jackson) leitet das J.A.G.-Hauptquartier in Washington. Weitere Kollegen sind die Staatsanwältin Allison Krennick (Andrea Thompson), Harriet Simms (Karri Turner) von der Abteilung Öffentlichkeitsarbeit des Flugzeugträgers "Seahawk" und Commander Teddy Lindsey (W. K. Stratton), später kommen noch Lieutenant Loren Singer (Nanci Chambers) und Commander Sturgis Turner (Scott Lawrence) dazu.Zwischendurch haben alle Zeit für ein Privatleben: Harm sucht noch immer nach seinem Vater, der seit dem Vietnamkrieg vermisst wird und von dem er glaubt, er könnte noch leben. Bud heiratet Harriet, und die beiden bekommen am Ende der vierten Staffel ein Baby. Mac verlobt sich mit dem australischen Anwalt Mic Brumby (Trevor Goddard). Mic und Mac. Die Hochzeit bläst Mic aber ab, weil Mac Gefühle für Harm hat. Trotzdem werden Mac und Harm kein Paar. Harm erlangt seine Nachtsicht zurück, und Mac hat plötzlich Visionen, die ihr Informationen über Vermisste verschaffen. Am Ende der siebten Staffel verliert Bud durch eine Mine ein Bein und ist fortan nur noch begrenzt einsatzfähig. Kurz vor dem Ende der achten Staffel wird Loren Singer in Folge 178 ("Eisige Zeiten") ermordet aufgefunden und Teddy Lindsey wenig später als ihr Mörder verhaftet. Am Ende der neunten Staffel kommt Webb bei einer Rettungsaktion ums Leben, und Chegwidden nimmt seinen Hut.Die Doppelfolge "Eisige Zeiten", die Sat.1 im Januar 2005 ausstrahlte, diente als Pilotfilm für die neue Serie Navy CIS. Dessen Hauptfigur Leroy Gibbs (Mark Harmon) wurde in dieser Folge eingeführt.Die einstündigen Folgen von J.A.G. liefen zunächst freitags zur Primetime, zeitweise an fußballfreien Samstagen um 18.30 Uhr und werktäglich um 16.00 Uhr und seit Sommer 2000 nur noch nachmittags am Wochenende.
Das Fernsehlexikon
, Abdruck mit freundlicher Genehmigung von Michael Reufsteck und Stefan Niggemeier.
Wo läuft's?
Vor dem nächsten Serienstart kostenlose E-Mail Benachrichtigung an:
im Fernsehen:
(Details bei Mausklick auf den Episodentitel)
(Schweiz)

So, 21.10. 20:00 h

9

17

Der Held von Panama

(Schweiz)

So, 21.10. 20:55 h

9

18

Wege des Schicksals

(Schweiz)

Mo, 22.10. 00:35 h

9

17

Der Held von Panama

(Schweiz)

Mo, 22.10. 01:20 h

9

18

Wege des Schicksals

(Schweiz)

So, 28.10. 20:00 h

9

19

Die ganze Wahrheit

(Schweiz)

So, 28.10. 20:55 h

9

20

Krieg der Worte

(Schweiz)

Mo, 29.10. 00:35 h

9

19

Die ganze Wahrheit

(Schweiz)

Mo, 29.10. 01:20 h

9

20

Krieg der Worte
Daten & Zeiten kalendarisch. Alle Angaben ohne Gewähr auf Vollständigkeit.
Shophighlights
: DVDs, Blu-ray-Discs, Bücher
Highlights
JAG (Judge Advocate General) - The Complete First Season [RC 1]

Judge Advocate General - The Complete First Season [RC 1]

USA-Import [Regionalcode 1]
jetzt statt EUR 16,06*
nur EUR 9,42

JAG (Judge Advocate General) - The Complete Second Season [RC 1]

Judge Advocate General - The Complete Second Season [RC 1]

USA-Import [Regionalcode 1]
jetzt statt EUR 21,65*
nur EUR 8,78
DVD
Buch
* früherer bzw. Listenpreis
** günstigster Preis im Amazon.de-Marketplace (Stand: ..)
Alle Preisangaben ohne Gewähr, Preise ggf. plus Porto & Versandkosten.
GEWISSE INHALTE, DIE AUF DIESER WEBSITE ERSCHEINEN, STAMMEN VON AMAZON EU SARL. DIESE INHALTE WERDEN SO, WIE SIE SIND ZUR VERFÜGUNG GESTELLT UND KÖNNEN JEDERZEIT GEÄNDERT ODER ENTFERNT WERDEN.
Links
Websites
E
Episodenliste
I
Inhaltsangabe
B
Bilder
A
Audio/Musik
V
Videos
F
Forum
N
Blog/News
weitere Links
Kommentare
, Erinnerungen und Forum
User 1400224

schrieb am 12.10.2018, 10.58 Uhr:

Wurde die Serie auf Nitro jetzt schon wieder eingestellt? Ich bin entsetzt!Antworten
Herrchen

(geb. 1966)

schrieb am 26.09.2018, 14.11 Uhr:

Na super wirt nach Staffel 4 folge 1 abgebrochen warumAntworten
a name

schrieb am 15.09.2018, 13.58 Uhr:

Warum hat NITRO Folge 11 ausgelassen ?Antworten
Popularität
J.A.G. - Im Auftrag der Ehre-Fans mögen auch folgende Serien: