Registrierung zur E-Mail-Benachrichtigung
Anmeldung zur kostenlosen Serienstart-Benachrichtigung für

E-Mail-Adresse
Für eine vollständige und rechtzeitige Benachrichtigung übernehmen wir keine Garantie.
289
It's Always Sunny in Philadelphia

289 Fans

73%

27%

jünger

älter

Serienwertung

4 10590

3.94

Stimmen:

17

eigene Wertung: -
Serieninfos & News
Deutsche Erstausstrahlung: 18.01.2007 (Comedy Central)
Arbeitstitel: Jerks
Mac (Rob McElhenney), Charlie (Charlie Day), Dennis (Glenn Howerton) und seine Schwester Dee (Kaitlin Olson) führen das gemütliche Irish Pub "Paddy's" in Philadelphia. Leider laufen die Geschäfte nicht so gut wie geplant, so dass die Existenz der Kneipe ständig auf der Kippe steht. Durch die geschäftlichen Schwierigkeiten wird auch die Freundschaft der vier auf eine harte Probe gestellt. Und als ob das alles noch nicht reichen würde, steht plötzlich auch noch Dennis' und Dees Vater Frank (Danny DeVito) auf der Matte. Die Geschwister hatten sich geschworen, nie wieder ein Wort mit ihrem Erzeuger zu sprechen, doch dieser lässt sich nicht mehr abschütteln und zieht kurzerhand bei Charlie ein.Mac-Darsteller Rob McElhenney agiert auch als Produzent und Drehbuchautor der Serie. Als Frank Reynolds brilliert Golden Globe-Preisträger Danny DeVito ("Schnappt Shorty", "Twins - Zwillinge").
(Comedy Central)
Serienguide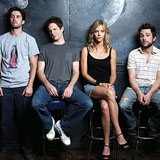 Das gemütliche Irish Pub Paddy's steht ständig kurz vor der Pleite, so sehr sich die vier Freunde Mac, Charlie, Dennis und Dee auch bemühen, den Betrieb halbwegs wirtschaftlich zu führen. Als dann auch noch Frank auftaucht, Dennis' und Dees Vater, mit dem die beiden eigentlich nie mehr ein Wort wechseln wollten, ist das Chaos komplett: Denn Frank läßt sich einfach nicht abweisen und zieht bei Charlie ein. Gemeinsam meistern die Freunde geschäftliche und private Krisen und lassen sich doch nie ihre Lebensfreude nehmen.
Hruska/Evermann 2008-2013
It's Always Sunny in Philadelphia Streams
Wo wird "It's Always Sunny in Philadelphia" gestreamt?
Leider derzeit keine Streams vorhanden.
Mithelfen
Im TV
Wo und wann läuft "It's Always Sunny in Philadelphia" im Fernsehen?
Keine TV-Termine in den nächsten Wochen.
Ich möchte vor dem nächsten Serienstart kostenlos per E-Mail benachrichtigt werden:
Shophighlights
: DVDs, Blu-ray-Discs, Bücher
¹ früherer bzw. Listenpreis
Alle Preisangaben ohne Gewähr, Preise ggf. plus Porto & Versandkosten.
GEWISSE INHALTE, DIE AUF DIESER WEBSITE ERSCHEINEN, STAMMEN VON AMAZON EU SARL. DIESE INHALTE WERDEN SO, WIE SIE SIND ZUR VERFÜGUNG GESTELLT UND KÖNNEN JEDERZEIT GEÄNDERT ODER ENTFERNT WERDEN.
Links
Externe Websites
E
Episodenliste
I
Inhaltsangabe
B
Bilder
A
Audio/Musik
V
Videos
F
Forum
N
Blog/News
Kommentare
, Erinnerungen und Forum
Seven182

(geb. 1982)

schrieb am 03.02.2018, 09.56 Uhr:

Hallo,gibt es eigentlich schon neue Infos von Its always sunny in philly?Erschreckend das so eine gute Serie in Deutschland komplett von der Bildfläche verschwindet!Pro7 hat/hatte ja die Rechte zuletzt aber strahlte es ja dann auch einfach nicht mehr aus.Und selbst auf DVD gibts nur die ersten Staffeln auf Deutsch.Traurig sowas.
24forever

(geb. 1975)

schrieb am 20.11.2015, 08.40 Uhr:

Geht es irgendwann in Deutschland auch nochmal weiter mit der Serie, oder wird die Ausstrahlung jetzt komplett boykottiert? Ich meine, die deutschen Sender haben die Serie ja noch nie gut behandelt, aber 6 Staffeln hinter den USA herzuhinken!!?!?!?!? Da ist ja selbst Parks and Recreation schneller in Deutschland! Und da hinken wir auch 3 Seasons zurück!
Stefan

(geb. 1963)

schrieb am 09.08.2014:

Muß so 'ne Art "Cheers" (bzw. "Prost Helmut") sein - nur in der heutigen Zeit angesiedelt. "PRO 7 Fun" bekomme ich leider übers Sky-Abo nicht rein. Schade...

Hurfunkel

(geb. 1977)

schrieb am 10.08.2014:

Nein, es mehr eine Art "Seinfeld auf Crack".
http://en.wikipedia.org/wiki/It's_Always_Sunn
y_in_Philadelphia#Reception
Bildergalerie zu "It's Always Sunny in Philadelphia"
'ne Nase voll Stoff - Teil 2

Die Mafia will ihre Kohle zurück: Frank (Danny Devito, l.) und Mac (Rob McElhenney, r.) wissen nur noch nicht, wie sie an so viel Geld kommen sollen ...

Bild: © 2007 Fox and its related entities. All rights reserved.
It's Always Sunny in Philadelphia-Fans mögen auch