Deutsche Erstausstrahlung: 09.11.2011 (Fox Channel)
Weiterer Titel: American Horror Story - Die dunkle Seite in dir (Staffel I)
Die US-amerikanische Grusel-Serie wartet in jeder Staffel mit einer völlig neuen Geschichte auf, samt neuem Schauplatz und neuen Darstellern. Während in der ersten Staffel ein Haus in Los Angeles im Mittelpunkt steht, in dem immer wieder schreckliche Morde geschehen und das seine Opfer als Geister auf ewig an sich bindet, spielt die zweite Staffel in einer psychiatrischen Klinik im Jahre 1964. Auch hier geschehen grausame Dinge, an denen nicht nur die mysteriös-gruseligen Patienten schuld sind, sondern auch die strenge Klinik-Chefin (Jessica Lange).Mit Staffel 3 kehrt die Serie zurück in die Gegenwart und ruft in New Orleans eine alte Hexenmeisterin auf den Plan, die sich und ihre Kolleginnen mit allen magischen Mitteln vor böswilligen Angriffen verteidigen muss.
Cast & Crew
Sarah PaulsonBillie Dean Howard (Staffel 1)
Lana Winters (Staffel 2)
Cordelia Foxx (Staffel 3)
Bette & Dot Tattler (Staffel 4)
Sally (Staffel 5)
Audrey Tindall (Staffel 6)
Allyson Mayfair-Richards (Staffel 7)
Evan PetersTate Langdon (Staffel 1)
Kit Walker (Staffel 2)
Kyle Spencer (Staffel 3)
Jimmy Darling (Staffel 4)
Mr. James March (Staffel 5)
Rory Monahan (Staffel 6)
Edward Phillipe Mott (Staffel 6)
Kai Anderson (Staffel 7)
(Staffel 8)
Denis O'HareLarry Harvey (Staffel 1)
Spalding (Staffel 3)
Stanley (Staffel 4)
Liz Taylor (Staffel 5)
Dr. Elias Cunningham (Staffel 6)
William van Henderson (Staffel 6)
Kathy BatesMadame Delphine LaLaurie (Staffel 3)
Ethel Darling (Staffel 4)
Iris (Staffel 5)
Agnes Mary Winstead (Staffel 6)
(Staffel 8)
Jessica LangeConstance Langdon (Staffel 1)
Schwester Jude (Staffel 2)
Fiona Goode (Staffel 3)
Elsa Mars (Staffel 4)
Constance Langdon (Staffel 8)
Frances ConroyMoira O'Hara (Staffel 1)
Todesengel (Staffel 2)
Myrtle Snow (Staffel 3)
Gloria Mott (Staffel 4)
(Staffel 8)
Lily RabeNora Montgomery (Staffel 1)
Schwester Mary Eunice (Staffel 2)
Misty Day (Staffel 3)
Schwester Mary Eunice (Staffel 4)
Aileen Wuornos (Staffel 5)
Shelby Miller (Staffel 6)
(Staffel 8)
Angela BassettMarie Laveaut (Staffel 3)
Desiree Dupree (Staffel 4)
Ramona Royale (Staffel 5)
Monet Tumusiime (Staffel 6)
Emma RobertsMadison Montgomery (Staffel 3)
Maggie Esmerelda (Staffel 4)
(Staffel 8)
Cheyenne JacksonWill Drake (Staffel 5)
Sidney Aaron James (Staffel 6)
Dr. Rudy Vincent (Staffel 7)
(Staffel 8)
Taissa FarmigaViolet Harmon (Staffel 1)
Zoey (Staffel 3)
Sophie Green (Staffel 6)
(Staffel 8)
Adina PorterLee Harris (Staffel 6)
(Staffel 8)
Billie LourdWinter Anderson (Staffel 7)
(Staffel 8)
Finn WittrockDandy Mott (Staffel 4)
Rudolph Valentino (Staffel 5)
Tristan Duffy (Staffel 5)
Jether Polk (Staffel 6)
Wes BentleyEdward Mordrake (Staffel 4)
Det. John Lowe (Staffel 5)
Dylan (Staffel 6)
Ambrose White (Staffel 6)
Leslie Grossman (Staffel 8)
Gabourey SidibeQueenie (Staffel 3)
Regina Ross (Staffel 4)
Queenie (Staffel 5)
(Staffel 8)
Jamie BrewerAdelaide Langdon (Staffel 1)
Nan (Staffel 3)
Marjorie (Staffel 4)
Naomi GrossmanPepper (Staffel 2)
Pepper (Staffel 4)
Cody FernMichael Langdon (Staffel 8)
Chloë SevignyShelley (Staffel 2)
Alex Lowe (Staffel 5)
Zachary QuintoChad Warwick (Staffel 1)
Dr. Oliver Thredson (Staffel 2)
Dylan McDermottBen Harmon (Staffel 1)
Johnny Morgan (Staffel 2)
(Staffel 8)
Chaz Bono

Gary K. Longstreet

Erika Ervin

Amazon Eve

Lady GagaElizabeth (Staffel 5)
John Carroll Lynch

Mr. Jingles

Mare Winningham

Ms. Evers

Matt BomerAndy (Staffel 4)
Donovan (Staffel 5)
Connie BrittonVivien Harmon (Staffel 1)
(Staffel 8)
Joseph FiennesMonsignor Timothy Howard (Staffel 2)
Lizzie BrocheréGrace (Staffel 2)
James CromwellDr. Arthur Arden (Staffel 2)
Michael ChiklisWendell "Dell" Toledo (Staffel 4)
Billy Eichner (Staffel 8)
Mat Fraser

Paul the Illustrated Seal

Rose Siggins

Legless Suzi

Alison PillIvy Mayfair-Richards (Staffel 7)
Jyoti Amge

Ma Petite

Cuba Gooding Jr.Dominic Banks (Staffel 6)
André HollandMatt Miller (Staffel 6)
Lennon Henry

Holden Lowe

Danny Huston

The Axeman

Leslie Jordan

Courtney

Christopher Neiman

Salty

Christine Estabrook

Marcy

Gus Kenworthy

Chet Clancy

Matthew Morrison

Trevor Kirchner

Angelica Ross

Nurse Rita

Zach Villa

Richard Ramirez

Alexandra BreckenridgeMoira O'Hara (Staffel 1)
Kaylee (Staffel 3)
Kate MaraHayden McClaine (Staffel 1)
Cathy Fielding

Asylum Nun

DeRon Horton

Ray Powell

Matt RossCharles Montgomery (Staffel 1)
Jessica Belkin

Vampire Girl

Susan Berger

Butcher (Real)

Shree Crooks

Scarlett Lowe

Grace Gummer

Penny

Josh Hamilton

Hank

Richard T. Jones

Detective Hahn

Cannon Mosteller

Vampire Boy #1

Emmory Mosteller

Vampire Boy #2

Ashlynn Ross

Marie Jeanne LaLaurie

Jess Allen

Sandstorm

Ameer Baraka

Minotaur

Morris Chestnut

Luke

Areana Cirina

Ghost Nurse Bridget

Jenna Doolittle

Ghost Nurse Miranda

Celia Finkelstein

Gladys

Colton Haynes

Detective Samuels

Frederick Koehler

Lot Polk (Real)

Fredric Lehne

Frank McCann

Lyric Lennon

Lachlan Drake

Marti Matulis

Piggy Man

Britne Oldford

Alma Walker

Riley Schmidt

Rubber Man

Jennifer Lynn Warren

Borquita LaLaurie

Jenna DewanTeresa (Staffel 2)
Joan Collins (Staffel 8)
Thea Andrews

Pundit #1

Exie Booker

Pundit #2

Alexander Dreymon

Luke Ramsey

James DuMont

Foster

Clea DuVall

Wendy Peyser

Mark Engelhardt

Carl

Kevin Foster

Sheriff

Johnny Gorman

Heart Attack

Dana Gourrier

Chantal

Michael Graziadei

Travis Wanderley

Raeden Greer

Pauline LaLaurie

Gloria Laino

The Mexican

Chrissy Metz

Barbara

Renton Pexa

Keith

Billy Porter

Behold Chablis

Lance Reddick

Papa Legba

Anton Lee Starkman

Max Ellison

Barbara Tarbuck

Mother Superior Claudia

Andrew Tippie

Larry

Celia Weston

Lillian

Gary-7

The Headbanger Inmate

Ava Acres

Madeline

Kyle Allen

Timothy Campbell

Kamilla Alnes

Vendela

Robin Bartlett

Pembroke

Jennifer Kim

Reporter #1

Lupe Zapata

Reporter #2

Tai Bennett

Reporter #3

Danny Max

Reporter #3

Audrey Casson

Priscilla TV

Mark Consuelos

Spivey

Cameron Cowperthwaite

Speedwagon

Kyle Davis

Dallas

Christine Devine

Anchor #1

Kirk Hawkins

Anchor #2

Major Dodson

Corey Bachman

Conor Donnally

Eddie

Brian Firkus

Trixie Mattel

Tony Forsmark

News Cameraman

Colby French

Officer

Eve Gordon

Dr. Hall

Edward Hansen

Edward Hansen

Hubert Hodgin

Toxicology Expert

Dustin King

Tripod

Patti LaBelle

Dora

Sean Liang

Wide Load

Patti LuPone

Joan Ramsey

Kaiwi Lyman

Gutterball

John Caroll Lynch

Twisty the Clown

P.J. Marshall

Colquitt

Helena Mattsson

Agnetha

Emma Meisel

Midge

Lou Taylor Pucci

Jonas Shevoore

Rosa Salazar

Maria

Skyler Samuels

Bonnie

Ash Santos

Emily

Teddy Sears

Patrick

Saniyya Sidney

Flora Harris TV

Azura Skye

Fiona

Kat Solko

Helen

Adam LevineLeo (Staffel 2)
Stevie Nicks (Staffel 8)
Chelsea Alden

Alissa

Filip Alexander

Young Bobby

Mädchen Amick

Mrs. Ellison

Betsy Baker

Juror #5

Victoria Antoinette

Juror #8

Matthew John Armstrong

Detective Byers

Thomas Barbusca

Jimmy

George Bell

Tall Man Ghost

Tony Bentley

Governor Roman

Maya Rose Berko

Nurse Miranda

Jeffrey Bowyer-Chapman

Andre Stevens

Orla Brady

Dr. Karen Hopple

Jon Jon Briones

Ariel Augustus

Orson Chaplin

Cain Polk

Frank Collison

Ishmael Polk (Real)

Mike Colter

David

Tyler McKenzie Cook

Lumberjack

Michael Cristofer

Harrison Renard

Alexandra Daddario

Natacha Rambova

Mark Casimir Dyniewicz

Asylum Patient

Lucy Faust

Joanne

Caleb Foote

Pus Bucket

Max Greenfield

Gabriel

Estelle Hermansen

Priscilla

Roger Hewlett

Foreman

Scott Jefferson

Louis LaLaurie

Sam Kinsey

Beau

Savannah Rose Liles

Priscilla (Real)

Judd Lormand

Doyle

Jorge Luis-Pallo

Pedro

Mark Margolis

Sam Goodman

Joel McKinnon Miller

Detective Connors

Dermot Mulroney

Bob Thompson

Michael Murray

Viking Hustler

Brian Oerly

Clifton

Kristen Rakes

Nurse Bridget

Carlo Rota

Anton Lavey

Anthony Ruivivar

Richard Ramirez

Kai Schulz

Bryan

Bodhi Schulz

Troy

Billy Snow

Uber Driver

Mena Suvari

Elizabeth Short

Lee Tergesen

Vince

Ramona Tyler

Mildred Bachman

Mariana Vicente

Waitress Carol

Tom Virtue

Priest

Riley Voelkel

Young Fiona

Malcom-Jamal Warner

Angus T. Jefferson

Robin Weigert

Mama Polk

Charles Malik Whitfield

Mason Harris

Joseph Will

Councilman Perry

Rebecca Wisocky

Lorraine Harvey

B.D. Wong

Baldwin Pennypacker

Regie: Bradley Buecker, Alfonso Gomez-Rejon, Michael Uppendahl, Loni Peristere, Gwyneth Horder-Payton, Jennifer Lynch, Ryan Murphy, Howard Deutch, Michael Goi, Michael Lehmann, David Semel, Angela Bassett, John J. Gray, Jeremy Podeswa, Michael Rymer, Jennifer Arnold, Miguel Arteta, Barbara Brown, Nelson Cragg, Liz Friedlander, Rachel Goldberg, Marita Grabiak, Anthony Hemingway, Tim Hunter, Liza Johnson, Elodie Keene, Maggie Kiley, Alexis O. Korycinski, Sarah Paulson, John Scott, Mike Uppendahl, Mary Wigmore, Craig Zisk
Drehbuch: Ryan Murphy, Brad Falchuk, Tim Minear, John J. Gray, Jennifer Salt, Crystal Liu, Jessica Sharzer, Adam Penn, Todd Kubrak, Ned Martel, Douglas Petrie, James Wong, Jay Beattie, Akela Cooper, Manny Coto, Josh Green, Joshua Greene, Asha Michelle Wilson
Originalkonzeption: Brad Falchuk, Ryan Murphy
Produktion: Brad Falchuk, Ryan Murphy, Tim Minear, Chip Vucelich, Alexis Martin Woodall, Dante Di Loreto, James E. Williams, Bradley Buecker, Ryan Murphy Productions, Jennifer Salt, Brad Falchuk Teley-Vision, Jessica Sharzer, Robert M. Williams Jr., Alfonso Gomez-Rejon, Joe Incaprera, Todd Nenninger, Douglas Petrie, Ashley Contino, Michael Cedar, Jessica Lange, Mark Douglas, James Wong, Patrick McKee, Bonnie Weis
Musik: James S. Levine, Mac Quayle
Schnitt: Fabienne Bouville, Adam Penn, Regis Kimble, Stewart Schill, Bradley Buecker, Robert Komatsu, Micky Blythe, Joe Leonard, John Petaja
Regieassistenz: Jeremy Reisig, Frank Tignini, Ron Rapiel, Michael Amundson, Sally Edwards, Iran Kuykendall, Luke Maxcy, Glen Moorman, Eric Henriquez, Jason Melius, Kevin Lum, Jill Maxcy, Cheeba White, George Bott, Carol Green, Linda Montanti, Justin Ball, Zack Smith, Leo Bauer, Diane Calhoun, Jacki O'Brien, Kim Barnard, Sally E. Brunski, Chris DeAngelis, Hope Garrison, Alfonso Gomez-Rejon, Shannon Parker, Roger Udwin
Ton: Doug Andham, Joe Earle, Gary Megregian, John Bauman, Bruce Litecky, Sean Rush, Judah Getz, Kyle Billingsley, Timothy A. Cleveland, Steven Huerstel, Daniel Kuzila, Matthew Pavolaitis, Erik H. Magnus, Christian Buenaventura, Evan Daum, Andrew Spencer Dawson, Jason Krane, Eric Laws, Chris Chae, Vicki Lemar, Phillip W. Palmer, Arno Stephanian
Serienguide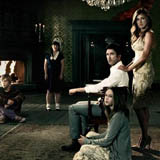 So hat sich die Familie Harmon ihren Neustart nicht vorgestellt: Nachdem Ben seine Frau Vivien betrogen hat, wollen die beiden mit Tochter Violet einen letzten Versuch machen, ihre Ehe zu retten. Doch das neue Haus in Los Angeles stellt sich als Ort des Horrors heraus: Es geschehen seltsame Dinge, und die Harmons finden heraus, dass schon mehrere vorherige Bewohner ums Leben gekommen sind. Was steckt hinter den rätselhaften Ereignissen? Nachbarin Constance scheint mehr zu wissen - aber sie schweigt...
Hruska/Evermann 2008-2013