Registrierung zur E-Mail-Benachrichtigung
Anmeldung zur kostenlosen Serienstart-Benachrichtigung für

E-Mail-Adresse
sobald ein neuer Termin feststeht (ca. 3-6 Wochen vorher)
einen Tag vor der Ausstrahlung
täglich im "TV-Planer" für alle ausgewählten Serien und Filme
wöchentlich im Newsletter mit allen Serienstarts der Woche (Änderung/Löschung ist jederzeit unter www.wunschliste.de/login möglich)
Ich willige ein, dass ich kostenlos per E-Mail informiert werde. Diese Benachrichtigungen (z.B. TV-Sendetermine, Streaming-Tipps und Medien-Neuerscheinungen) können jederzeit geändert und deaktiviert werden. Mit der Speicherung meiner personenbezogenen Daten bin ich einverstanden. Eine Weitergabe an Dritte erfolgt nicht. Ich kann die Einwilligung jederzeit per E-Mail an kontakt@imfernsehen.de oder per Brief an die imfernsehen GmbH & Co. KG, Aachener Straße 364-370, 50933 Köln widerrufen. Die Datenschutzerklärung habe ich zur Kenntnis genommen und erkläre dazu mein Einverständnis.
Für eine vollständige und rechtzeitige Benachrichtigung übernehmen wir keine Garantie.

Platz 203

1790

Fans

66%

34%

ø Alter: 45-55 Jahre

Serienwertung

5 0835

4.51

Stimmen:

80

eigene Wertung: -
Serieninfos & News
DVD-Tipp
M*A*S*H
Complete Box (33 DVDs)
Deutsche Erstausstrahlung: 05.01.1990 (PRO 7)
Das Mobile Armee 'S'Chirurgie Hospital (M*A*S*H, im Original: Mobile Army Surgery Hospital), ist ein amerikanisches Militärlazarett im Süd-Korea der fünfziger Jahre. Von der nahen Front werden die Verwundeten eingeflogen und vom total verrückten Team im M*A*S*H versorgt. Zu diesem Team gehören die tüchtigen Chirurgen Trapper John und Hawkeye, die die Moral im Camp untergraben, wo sie nur können. Ihr Vorgesetzter ist Frauenheld Frank, der mit dem weiblichen Major Hot Lips verbandelt ist. Dann gibt es noch Radar, den Jungen für alles. Er ist immer zur Stelle, wenn man ihn braucht. Die nahe Front und die Sehnsucht nach der unerreichbaren Heimat überspielt die Truppe mit ihren Verrücktheiten: Es gibt unerlaubte Parties, selbst gebrannten Schnaps und erotische Eskapaden mit den Schwestern. Wichtig ist nur, daß sie im Ernstfall als erstklassige Chirurgen und medizinische Fachleute ihren Mann stehen können. Die Serie basiert auf dem gleichnamigen Spielfilm mit Donald Sutherland (Hawkeye Pierce), Elliott Gould (Trapper John), Sally Kellerman (Hot Lips), Jo Ann Pflug (Dish) und Robert Duvall (Major Burns). Der Charakter von Trapper John bekam 1979 in den USA seine eigene Serie Trapper John, M.D. (siehe dort). Pernell Roberts übernahm die Hauptrolle. M*A*S*H war die erste Serie, die im deutschen Fernsehen parallel auf zwei Sendern mit Erstausstrahlungsfolgen lief (Kabel 1 und Pro Sieben).
aus: Der neue Serienguide
Fernsehlexikon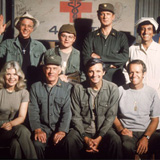 251 tlg. US Sitcom von Larry Gelbart ("M*A*S*H"; 1972-1983).Während des Koreakriegs zwischen 1950 und 1953 versorgen die Ärzte und Helfer des Feldlazaretts M.A.S.H., kurz für "Mobile Army Surgery Hospital", die Verwundeten. Zum Team gehören "Hawkeye" Benjamin Franklin Pierce (Alan Alda), Captain "Trapper" John McIntyre (Wayne Rogers), Major "Hot Lips" Margaret Houlihan (Loretta Swit), Corporal Maxwell Klinger (Jamie Farr), LeutenantColonel Henry Blake (McLean Stevenson), Major Frank Burns (Larry Linville), Captain B. J. Hunnicutt (Mike Farrell), Corporal Walter "Radar" O'Reilly (Gary Burghoff), Major Charles Emerson Winchester III. (David Ogden Stiers), Colonel Sherman Potter (Harry Morgan) und Pater Francis Mulcahy (William Christopher).Die Serie basierte auf dem Kinofilm von Robert Altman und wurde eine der erfolgreichsten und langlebigsten Serien im US Fernsehen. Der Koreakrieg, in dem M.A.S.H. spielte, dauerte drei Jahre, die Serie lief elf Jahre lang. Die letzte Folge, "Goodbye, Farewell and Amen", erreichte mit 60 Millionen Zuschauern in den USA die höchste Einschaltquote aller Zeiten. Der Titelsong "M*A*S*H* Theme (Suicide Is Painless)" von Johnny Mandel und Robert Altmans Sohn Mark Altman, die sich den Bandnamen The MASH gaben, wurde 1980 ein Nummer-eins Hit. Die Figur des Trapper John McIntyre bekam eine eigene Serie mit dem Titel Trapper John, M. D.Pro Sieben zeigte die Serie zunächst im Vorabend-, später im Nachtprogramm. Im gleichen Zeitraum liefen auch bei Kabel 1 Erstausstrahlungen anderer Folgen der Serie, die kurz darauf bei Pro Sieben im Anschluss an die dortigen Erstausstrahlungen gezeigt wurden.
Das Fernsehlexikon
, Abdruck mit freundlicher Genehmigung von Michael Reufsteck und Stefan Niggemeier.
Wo läuft's?
Shophighlights
: DVDs, Blu-ray-Discs, Bücher
** günstigster Preis im Amazon.de-Marketplace (Stand: ..)
Alle Preisangaben ohne Gewähr, Preise ggf. plus Porto & Versandkosten.
GEWISSE INHALTE, DIE AUF DIESER WEBSITE ERSCHEINEN, STAMMEN VON AMAZON EU SARL. DIESE INHALTE WERDEN SO, WIE SIE SIND ZUR VERFÜGUNG GESTELLT UND KÖNNEN JEDERZEIT GEÄNDERT ODER ENTFERNT WERDEN.
Links
Websites
E
Episodenliste
I
Inhaltsangabe
B
Bilder
A
Audio/Musik
V
Videos
F
Forum
N
Blog/News
weitere Links
Kommentare
, Erinnerungen und Forum
Dima

schrieb am 31.10.2017, 18.45 Uhr:

Hallo,
Ich habe mir gerade Staffel 5 Folge 23 "Verdammte Souvenirs" angeschaut.
Ich Suche den Synchronsprecher von dem Darsteller Michael Bell (Willie Stratton) bekannt vor, weiß aber nicht wo ich diese Stimme schon mal gehört habe.
Könnt ihr mir helfen ?Antworten
serieone

schrieb am 11.09.2017, 14.28 Uhr:

Am 29.08 startete Nitro einen weiteren Re-Run von «MASH» - und begann wieder bei der dritten Folge "David und Goliath in Korea". Sind Gründe bekannt, warum die beiden Pilotfolgen sowie das Serienfinale "Machs gut, leb' wohl und Amen" immer wieder ausgelassen werden (müssen)?Es geht hier leider nicht nur um diese drei Episoden. Es werden seit rund zehn Jahren bei Re-Runs immer wieder große Teile der 256 Episoden (11 Staffeln) ausgelassen. Die Gründe sind vielfältig: In diesem Fall wurden schlicht nicht alle Episoden eingekauft. Somit bleibt eigentlich nur, zum Komplettset auf DVD (33 Discs) zu greifen, das auch preislich inzwischen sehr attraktiv geworden ist.Antworten

Thinkerbelle

(geb. 1964)

schrieb am 12.09.2017, 12.40 Uhr:

Serieone, du stellst hier oft Fragen und beantwortest sie dir selber. Hast du das von woanders her kopiert? Wenn ja wäre es schön, wenn du eine Quelle angibst. Nicht, dass du mal Ärger bekommst, wenn der der das ursprünglich geschrieben hat das hier mal liest.Antworten
Robrob1964

(geb. 1964)

schrieb am 22.08.2017, 13.40 Uhr:

Zwar läuft jetzt MASH schon seit 3 Jahren bei RTLNITRO, aber nur zu 80 %. Die ersten Beiden Folgen und die letzte Folge werden nie gezeigt. Auch bei der einzelnen Staffel fehlen jedes Mal ca. 5 Folgen.
Früher wurden bei Kabel oder 9Live alle Folgen gezeigt, aber dafür fehlt vielleicht RTLNUTRO das Geld und lieber strahlt man die Serie nur teilweise und zum 7 oder 8 Mal aus.Antworten
Popularität
M*A*S*H-Fans mögen auch folgende Serien: