Deutsche Erstausstrahlung: 18.09.2001 (ProSieben)
Carrie Bradshaw ist Zeitungskolumnistin. Ihre Kolumne befaßt sich mit allem rund ums das Liebesleben der New Yorker Großstädter. Genau wie ihre Freundinnen Samantha, Charlotte und Miranda ist sie um die Dreißig, Single - und der Traum von einer perfekten Beziehung scheint in unerreichbarer Ferne. Doch gemeinsam machen die vier nicht nur die Stadt unsicher, sie tauschen sich auch über ihre emotionalen und sexuellen Sorgen und Probleme aus - und liefern ungemein viel Stoff für Carries Artikel.
aus: Der neue Serienguide
"Sex and the City" basiert frei auf dem gleichnamigen Buch von Candace Bushnell.Die erfolgreiche Serie gewann zahlreiche bedeutende US-Fernsehpreise und löste eine große Vermarktungsmaschinerie aus. Kleidung und Accessoires der Hauptfiguren wurden weltweit stilbildend bei weiblichen Fans. Nach dem Ende der Serie kam 2008 ein "Sex and the City"-Spielfilm ins Kino, 2010 folgte die Fortsetzung "Sex and the City 2".
Fernsehlexikon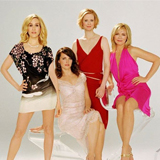 94 tlg. US-Comedyserie von Darren Star ("Sex And The City"; 1998-2004).Carrie Bradshaw (Sarah Jessica Parker) ist Single, liebt Schuhe und lebt in Manhattan. Mit ihren Freundinnen Samantha Jones (Kim Cattrall), Charlotte York McDougal (Kristin Davis) und Miranda Hobbes (Cynthia Nixon) redet sie - fast ausschließlich - über Männer, Sex und Peinlichkeiten mit Männern beim Sex. In der Zwischenzeit versuchen die vier Frauen, durch viele Affären und Liebschaften den "Richtigen" zu finden. Carrie träumt von einem Mann, mit dem sie ein Leben voller Abenteuer führen kann, und hat vor allem Angst, als "alte Jungfer" zu sterben. Sie hat wechselnde Liebhaber, darunter Aidan Shaw (John Corbett) und immer wieder "Mr. Big" (Chris Noth). Kunsthändlerin Charlotte sucht das Familienglück mit dem perfekten Ehemann, Rechtsanwältin Miranda einen Mann, der ihr das Wasser reichen kann, und PR-Agentin Samantha jemanden, mit dem sie Spaß im Bett haben kann. In Staffel 4 ist das eine Frau. Ihre lesbische Beziehung mit Maria (Sonia Braga) nervt sie aber schnell, weil alle darüber reden.Um Männer kennen zu lernen, gehen die vier häufig auf New Yorker Lifestylepartys. Das funktioniert nicht immer - oft entpuppen sich die neuen Liebhaber als Freaks, emotionale Wracks oder Versager im Bett. Ihr Erlebnisse und Gespräche verwurstet Carrie für ihre Zeitschriftenkolumne mit dem Titel "Sex And The City", die in Staffel 5 sogar als Buch veröffentlicht wird. Schließlich tauchen doch noch ein paar "Richtige" auf oder zumindest Männer zum Heiraten, und so ehelicht Charlotte in der sechsten und letzten Staffel Harry Goldenblatt (Evan Handler) und Miranda Steve Brady (David Eigenberg). Im Serienfinale entscheidet sich Carrie endgültig für "Mr. Big" (Chris Noth), Charlotte adoptiert ein Kind, Miranda nimmt ihre Schwiegermutter zu Hause auf, und Samantha beendet eine Chemotherapie nach einer Krebserkrankung.Für das Finale der erfolgreichen Serie wurden vier Versionen gedreht, die inzwischen auch alle auf einer DVD zu sehen sind. Die Produzenten wollten auf diese Weise bei der Erstausstrahlung unbedingt verhindern, dass vorzeitig bekannt wird, wie die Geschichte zwischen Carrie und "Mr. Big" ausgeht. Nicht einmal Carrie-Darstellerin Sarah Jessica Parker wusste vorher, wie die Serie endet.Pro Sieben zeigte dienstags ab 21.15 Uhr mit großem Erfolg zunächst jeweils zwei 35 minütige Folgen am Stück, später nur noch eine im Block mit anderen Comedyserien und ermöglichte es auf diese Weise auch jungen Männern, eine uralte Tradition wieder aufleben zu lassen: Dienstags abends konnten sie nun endlich wieder mal ganz unter sich in die Kneipe gehen und ein Bier trinken, während ihre Frauen und Freundinnen sich zu Hause über Dinge amüsierten, deren Unterhaltungsfaktor für die meisten Männer nicht nachvollziehbar war. Das Finale schlachtete Pro Sieben mit einer zweieinhalbstündigen Abschiedsgala aus, die in der Mitte von der letzten Folge unterbrochen wurde. In dieser Folge kam endlich heraus, dass "Mr. Big" auch einen echten Vornamen hatte: John.Serienerfinder Darren Star hatte sich zuvor durch Soaps wie Beverly Hills, 90210 und Melrose Place einen Namen gemacht. Mit dieser Serie hatte er zum ersten Mal einen Erfolg, der im Comedygenre angesiedelt war (ein weiterer Versuch, Starlets, floppte) und gleichzeitig immer wieder versuchte, eine der wichtigsten Fragen der Menschheit ernsthaft zu beantworten: Wie geht eine perfekte Beziehung? Die Geschichten beruhten auf den tatsächlichen Erlebnissen der Kolumnistin Candace Bushnell. Die Serie wurde 2001 mit dem Emmy für die beste Comedy ausgezeichnet.
Das Fernsehlexikon
*
, Abdruck mit freundlicher Genehmigung von Michael Reufsteck und Stefan Niggemeier.