Deutsche Erstausstrahlung: 14.11.1992 (RTL)
Der 17jährige Rapper Will Smith, genannt der Fresh Prince, ist im Westen Philadelphias aufgewachsen. Seine Freizeit verbringt Will mit seiner Musik und Basketball auf der Straße, trotzdem ist er intelligent und fleißig und lernt sogar heimlich. Eines Tages schickt seine Mutter ihn zu seinem Onkel Phillip Banks nach Bel Air, in die feinste Gegend von Los Angeles. Onkel Phil, der gutsituierte Rechtsanwalt, lebt dort mit seiner Familie und deren Butler in einem mondänen Haus. Anfangs tut er sich noch etwas schwer mit seinem neuen Schützling, aber Tante Vivian schließt Will gleich in ihr Herz. Auch mit Carlton, Ashley und Hilary, den Kindern der Banks, versteht sich Will - denn er bringt in deren bisher elegant eintöniges Leben einen ganz neuen Schwung. In der Abschlußfolge Wie war das nochmal? gibt es einen Blick hinter die Kulissen sowie Interviews mit den Hauptdarstellern. Hauptdarsteller Will Smith begann seine Karriere als Rap-Star. 1988 ge­wann er mit seiner Grup­pe D.J. Jazzy Jeff and the Fresh Prince einen Grammy für den Titel Parents just don't understand. Sein Rap-Kol­lege D.J. Jazzy Jeff spielt ebenfalls in der Serie mit.
aus: Der neue Serienguide
Neue Version als
Bel-Air
(USA, 2020)
Fernsehlexikon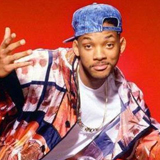 147 tlg. US Sitcom von Benny Medina, Jeff Pollack, Susan und Andy Borowitz ("The Fresh Prince Of Bel-Air"; 1990-1996).Der aus ärmlichen Verhältnissen in Philadelphia stammende Jugendliche Will Smith (Will Smith) wohnt bei seinem reichen Onkel Philip Banks (James Avery) in dessen vornehmer Villa in Bel Air, Beverly Hills. Seine freche Art und seine schrille Kleidung passen jedoch überhaupt nicht in diese Umgebung. Phil ist entsprechend genervt - hätte er noch welche, würde er sich dauernd die Haare raufen. Wills Mutter hatte den Jungen zu ihm geschickt, damit er eine bessere Erziehung bekommt. Diese Rechnung geht nicht ganz auf.Zum Banks-Haushalt gehören Mutter Vivian (Janet Hubert-Whitten; ab der vierten Staffel: Daphne Maxwell-Reid), der kleinwüchsige Sohn Carlton (Alfonso Ribeiro), mit dem Will eine Hassliebe verbindet, die ältere Tochter, die naive Hillary (Karyn Parsons), die jüngere Ashley (Tatyana M. Ali) und der ebenso vornehme wie vorlaute Butler Geoffrey (Joseph Marcell). Der Rapper Jazz (Jeffrey A. Townes), der von Onkel Phil nicht gern im Haus gesehen ist, ist Wills bester Kumpel. Er stellt zu Beginn der fünften Staffel - ein Jahr nach der Auswechslung der Vivian-Darstellerin - die Frage: "Wer spielt eigentlich dieses Jahr die Mutter?"Die Serie war eine der erfolgreichsten afroamerikanischen Sitcoms in den USA und fuhr auch für RTL über Jahre hohe Marktanteile am Samstagmittag ein. Ihr Produzent war der Musiker Quincy Jones, auf dessen Vorschlag hin der damals 20 jährige unerfahrene Will Smith engagiert wurde. Smith war mit Serienpartner Jeffrey A. Townes auch als Musiker erfolgreich. Unter ihren Rollennamen hatten sie als DJ Jazzy Jeff & The Fresh Prince mehrere Hits wie "Summertime" und "Boom! Shake The Room!" in den Charts. Den Titelsong rappte Smith ebenfalls selbst. Er wurde später als Solomusiker mit den Hits "Men In Black", "Miami" und "Gettin' Jiggy Wit' It" und den Kinofilmen "Men In Black", "Independence Day" und "Staatsfeind Nr. 1" weltberühmt.
Das Fernsehlexikon
*
, Abdruck mit freundlicher Genehmigung von Michael Reufsteck und Stefan Niggemeier.