Registrierung zur E-Mail-Benachrichtigung
Anmeldung zur kostenlosen Serienstart-Benachrichtigung für

E-Mail-Adresse
sobald ein neuer Termin feststeht (ca. 3-6 Wochen vorher)
einen Tag vor der Ausstrahlung
täglich im "TV-Planer" für alle ausgewählten Serien und Filme
wöchentlich im Newsletter mit allen Serienstarts der Woche (Änderung/Löschung ist jederzeit unter www.wunschliste.de/login möglich)
Ich willige ein, dass ich kostenlos per E-Mail informiert werde. Diese Benachrichtigungen (z.B. TV-Sendetermine, Streaming-Tipps und Medien-Neuerscheinungen) können jederzeit geändert und deaktiviert werden. Mit der Speicherung meiner personenbezogenen Daten bin ich einverstanden. Eine Weitergabe an Dritte erfolgt nicht. Ich kann die Einwilligung jederzeit per E-Mail an kontakt@imfernsehen.de oder per Brief an die imfernsehen GmbH & Co. KG, Aachener Straße 364-370, 50933 Köln widerrufen. Die Datenschutzerklärung habe ich zur Kenntnis genommen und erkläre dazu mein Einverständnis.
Für eine vollständige und rechtzeitige Benachrichtigung übernehmen wir keine Garantie.
Sons of Anarchy
USA

, 2008 – 2014

Platz 79

4240

Fans

69%

31%

ø Alter: 45-55 Jahre

Serienwertung

4 12605

4.45

Stimmen:

132

eigene Wertung: -
Serieninfos & News
DVD-Tipp
Sons of Anarchy
Staffel 1-3 (12 DVDs)
Deutsche Erstausstrahlung: 06.11.2012 (kabel eins)
Die Serie über einen Motorradclub in einer nordkalifornischen Kleinstadt nutzt Shakespears "Hamlet" als Inspiration für die internen Machtspiele innerhalb der Biker-Clique. Illegale Waffengeschäfte und eine KFZ-Werkstatt halten den Laden am Laufen, und Rivalen-Kämpfe mit anderen Clubs stellen die ungeschriebenen Ehren-Gesetze der Szene immer wieder auf eine harte Probe.
Serienguide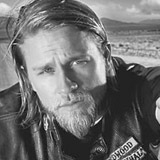 Biker Jax Teller ist Zeit seines Lebens Mitglied des Motorrad-Clubs Sons of Anarchy, den sein verstorbener Vater John Teller gegründet hat und den nun sein Stiefvater Clay Morrow führt. Sein Weg scheint daher vorgezeichnet: Jax wird Clay nachfolgen, die Werkstatt übernehmen und im Verborgenen den Waffen- und Marihuana-Schmuggel der Sons leiten. Doch als sein Sohn zur Welt kommt und seine Jugendliebe wieder in der Stadt ist, stellt er alles in Frage. Etwas, das Jax' engste Vertraute unbedingt unterbinden wollen... Sons of Anarchy ist lose angelehnt an Shakespears Klassiker Hamlet.
Hruska/Evermann 2008-2013
Wo läuft's?
Shophighlights
: DVDs, Blu-ray-Discs, Bücher
Highlights
DVD
Blu-ray
Buch
* früherer bzw. Listenpreis
** günstigster Preis im Amazon.de-Marketplace (Stand: ..)
Alle Preisangaben ohne Gewähr, Preise ggf. plus Porto & Versandkosten.
GEWISSE INHALTE, DIE AUF DIESER WEBSITE ERSCHEINEN, STAMMEN VON AMAZON EU SARL. DIESE INHALTE WERDEN SO, WIE SIE SIND ZUR VERFÜGUNG GESTELLT UND KÖNNEN JEDERZEIT GEÄNDERT ODER ENTFERNT WERDEN.
Links
Websites
E
Episodenliste
I
Inhaltsangabe
B
Bilder
A
Audio/Musik
V
Videos
F
Forum
N
Blog/News
weitere Links
Kommentare
, Erinnerungen und Forum
User 1288030

schrieb am 21.10.2017, 16.36 Uhr:

Hallo Leute, ich bin ein riesen Sons of Anarchy Fan und habe mir viel Mühe gemacht ein Musikvideo von der serie auf meinem YouTube Kanal hochzuladen. :D
Vielleicht interessiert es euch ja: https://youtu.be/dp4yEqCv2ZI
Ich hoffe es gefällt euch! :)Antworten
gibelin

schrieb am 12.10.2017, 12.29 Uhr:

Liebe SoA-Fans,Hiermit teile ich Ihnen gerne mit, dass im November zwei Konzerte von der US-Band Battleme mit Matt Drenik, bekannt aus der Serie Sons of Anarchy, stattfinden.03.11.2017 / Freitag - BERLIN (Musik & Frieden)
Facebook: https://www.facebook.com/events/134003847215496/
Tickets: https://gibelin.reservix.de/tickets-battleme-jeremy-live-in-berlin-in-berlin-musik-frieden-am-3-11-2017/e106924204.11.2017 / Samstag - HAMBURG (Fundbureau)
Facebook: https://www.facebook.com/events/1856489024667199/
Tickets: https://gibelin.reservix.de/tickets-battleme-jeremy-live-in-hamburg-in-hamburg-fundbureau-am-4-11-2017/e1071898Das wäre für euch sicherlich interessant!Antworten
RETROALEX

(geb. 1972)

schrieb am 31.05.2017, 19.01 Uhr:

Keine guten Nachrichten, von Kabel 1 über Facebook:"... leider können wir die Serie nicht fortsetzen, die Ausstrahlungslizenzen sind ausgelaufen. Eine Verlängerung war nicht umzusetzen, wir bitten um Verständnis. dass die Serie daher nicht mehr bei uns fortgeführt werden kann.":-(Hab ja bisher die ersten 5 Staffeln komplett und die bisherigen Folgen der sechsten Staffel im Free-TV auf Kabel 1 gekuckt und für den Rest der Serie hätte mir eine weitere Ausstrahlung dort auch gereicht, die Folgen waren ja uncut und meistens auch ohne Werbung.
Jedem der wie ich das auch nur im Free-TV gekuckt hat fehlen also nun 16 Folgen bis zum Serienende und man wird wohl nun Geld ausgeben müssen um die noch zu kucken. Ist jetzt halt leider so. :-(Antworten

Peter123

schrieb am 31.05.2017, 20.19 Uhr:

Tja ist leider so, bei Vikings bei Amazon nicht anders...Bei Netflix gibts einen Probemonat, da hast alle Folgen ohne Werbung in HD!Antworten
Popularität
Sons of Anarchy-Fans mögen auch folgende Serien: