Deutsche Erstausstrahlung: 25.08.1994 (PRO 7)
Lois Lane arbeitet beim Daily Planet in Metropolis und will sich gerade einen Namen als Enthüllungsjournalistin machen, als sie den jungen Kollegen Clark Kent zur Seite bekommt. Lois ahnt nicht, welches Geheimnis er verbirgt: Er ist Superman, der vor Jahren vom Planeten Krypton auf die Erde kam und mit Superkräften ausgestattet ist. Bei ihrer ersten gemeinsamen Recherche bekommt Lois dann ungewöhnliche Hilfe: Superman rettet eine Raumfähre vor einem Anschlag von Lex Luthor. Lois verliebt sich Hals über Kopf in den Superhelden - doch Clark sieht keine Chance für ihre Liebe. Auch er ist in Lois verliebt, aber sie nicht in ihn, sondern in Superman. Oft ist seine Versuchung groß, ihr gegenüber seine geheime Identität abzulegen, um ihre Liebe zu gewinnen, aber anfangs ist ihm das Risiko zu groß. Doch schließlich kommt Lois hinter Clarks Geheimnis, und nach mehreren Anläufen heiraten die beiden sogar. Die Serie ist eine Neuauflage des Superman-Themas, bei dem hauptsächlich die Lovestory zwischen Lois und Clark im Vordergrund steht. Allein die Probleme um die Hochzeit von Lois und Clark boten Stoff für mehr als eine ganze Saison. Die Serie ist die zweite Serie um die Abenteuer von Superman. Die erste Serie Supermann - Retter in der Not wurde ab 1951 in den USA produziert (siehe dort).
aus: Der neue Serienguide
Fernsehlexikon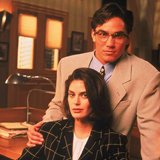 87 tlg. US-Science-Fiction-Serie von Deborah Joy LeVine ("Lois & Clark: The New Adventures Of Superman"; 1993-1997).Neuauflage der Superman-Abenteuer: Clark Kent (Dean Cain) arbeitet als Zeitungsreporter beim "Daily Planet" in Metropolis. Er führt ein Doppelleben und wird bei Bedarf zum unbesiegbaren Helden Superman vom Planeten Krypton, der die Welt vor dem Bösen rettet. Seine Kollegin Lois Lane (Teri Hatcher) will von ihm anfangs nichts wissen, weil sie für den Helden Superman schwärmt, nicht ahnend, dass es sich bei Clark Kent um ebendiesen handelt. So ist sie anfangs mit Lex Luthor (John Shea) zusammen, doch auch sein Geheimnis kennt sie nicht: Luthor ist ein skrupelloser Verbrecher und Supermans härtester Gegner. Er stirbt eines Tages zum Schein, kehrt aber später samt seiner bösen Machenschaften zurück. Lois und Clark werden schließlich doch ein Paar, als sie sein Geheimnis erfährt. Perry White (Lane Smith) ist der Besitzer des "Daily Planet", bei dem auch Jimmy Olsen (Michael Landes; ab der zweiten Staffel: Justin Whalin) und anfangs Catherine "Cat" Grant (Tracy Scoggins) als Reporter arbeiten. Jonathan (Eddie Jones) und Martha Kent (K Callan) sind Clarks Adoptiveltern, die sich fürsorglich um den Helden kümmern.Die Neuauflage des Comic-Klassikers wurde in die Gegenwart verlegt und setzte weniger auf Heldentaten und Verbrecherjagd, sondern konzentrierte sich vor allem auf die zwischenmenschlichen Aspekte in der Beziehung zwischen Lois und Clark.Die einstündigen Folgen liefen meist sonntags am Vorabend, zeitweise auch zur Primetime.
Das Fernsehlexikon
*
, Abdruck mit freundlicher Genehmigung von Michael Reufsteck und Stefan Niggemeier.